US FDA Medical Device Labeling Requirements – Surgical Face Masks
US FDA defines a label as a "display of written, printed, or graphic matter upon the immediate container of any article." The FDA regulates surgical face masks as medical devices and needs to comply with FDA labeling requirements for surgical face masks. The basic FDA labeling requirements for surgical face mask is listed below; this is not a complete list of requirements, but the requirements may change.
Name and Place of Business
Statement of Identity
Comply with Language Requirements
Net Quantity of Contents Statement
Adequate Directions for Use
Expiration Date
Lot Number
Country of Origin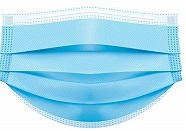 LMG Assist surgical mask manufacturers in FDA registration, 510k clearance, device listing, and US FDA Agent requirements.
Our experienced consultants can help you to comply with FDA requirements. Our expertise includes
Prepare 510k notification
Submission of 510k notification
FDA Agent service for 510k submission
Guidance in test requirements
Register your medical device establishment with FDA
List your surgical mask with FDA.
FDA 510K Clearances are public information; you can verify clearance status at the FDA site. Below are examples of surgical masks 510k clearance.
Quick links