Biocompatibility Tests required for Surgical face masks
Biocompatibility testing is one of the major sections in FDA 510k submission for surgical masks. FDA review both the biocompatibility test protocol and biocompatibility test results. FDA will not clear the device to market in the USA if the protocol used in biocompatibility testing is not approved even though the test result shows "passed." Also, the extraction ratio for the test item used in biocompatibility testing must comply with ISO 10993-12 standard.
Mandatory Test Requirements for Surgical Face Masks
ISO 10993-10 biological evaluation of medical devices Test for irritation
ISO 10993-10 Biological Evaluation of Medical Devices Test for Skin sensitization
ISO 10993-5 Biological evaluation of medical devices Test for in vitro cytotoxicity
LMG Assist surgical mask manufacturers in FDA registration, 510k clearance, device listing, and US FDA Agent requirements.
Our experienced consultants can help you to comply with FDA requirements. Our expertise includes
Prepare 510k notification
Submission of 510k notification
FDA Agent service for 510k submission
Guidance in test requirements
Register your medical device establishment with FDA
List your surgical mask with FDA.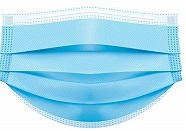 FDA 510K Clearances are public information; you can verify clearance status at the FDA site. Below are examples of surgical mask 510k clearance.
Quick links