Bench Testing Required for Surgical Face Masks
Bench testing is a required section in 510k notification for surgical masks. It is performed on a surgical mask to ensure the device design and construction are suitable for the intended use.
The following bench tests are required for surgical mask 510k submission.
Fluid Resistance – Testing for resistance of surgical face masks to penetration by synthetic blood.
Particulate Filtration Efficiency - To ensure the Particle filtration efficiency of materials used in the facemask.
Bacterial Filtration Efficiency – To evaluate the bacterial filtration efficiency (BFE) of medical face mask Materials.
Differential Pressure – To determines the resistance of a surgical face mask to the air flowing through it.
Flammability – To evaluate the flammability of clothing textiles.
LMG Assist surgical mask manufacturers in FDA registration, 510k clearance, device listing, and US FDA Agent requirements.
Our experienced consultants can help you to comply with FDA requirements. Our expertise includes
Prepare 510k notification
Submission of 510k notification
FDA Agent service for 510k submission
Guidance in test requirements
Register your medical device establishment with FDA
List your surgical mask with FDA.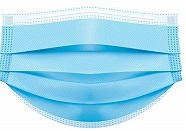 FDA 510K Clearances are public information; you can verify clearance status at the FDA site. Below are examples of surgical mask 510k clearance.
Quick links