Hand Sanitizer Import Requirements – FDA Regulations
Hand sanitizer import regulations are different for private label distributor (PLD, using a contract manufacturer and having own brand name and formulation) and distributor. FDA regulate hand sanitizer as an OTC Monograph Drug, so the hand sanitizer importer needs to comply with all Drug regulations.
Hand sanitizer import requirements for private label distributor (PLD)
A hand sanitizer importer who is also a private label distributor does not require FDA drug establishment registration but the PLD must have own NDC Labeler code and drug listing with 10-digit NDC number. PLD's Drug listing will be visible on FDA website.
The contract manufacturer must have FDA establishment registration, NDC Labeler code and drug listing. The contract manufacturer drug listing will be confidential.
Hand sanitizer import requirements for distributor
Hand sanitizer distributor who just distribute some other company's hand sanitizer and does not own the brand name or formulation (not a PLD) does not have any drug establishment registration or NDC labeler code or drug listing obligation. the manufacturer drug registration and listing are good for importing.
Hand sanitizer NDC Labeler Code Request form
Hand sanitizer FDA listing form
Hand Sanitizer GMP
If you are looking for antiseptic Hand Sanitizer regulations or assistance with FDA registration, LMG can assist you.
LMG assist foreign and domestic hand sanitizer manufacturers to register with FDA , we also provide drug listing service and US FDA Agent service to foreign drug establishments. Please complete our online form to register your establishment with FDA.
LMG issue free FDA registration certificate after successfully completing your establishment registration with FDA. You can use this as a proof of FDA registration to the industry, also you can verify certificate validity on our website.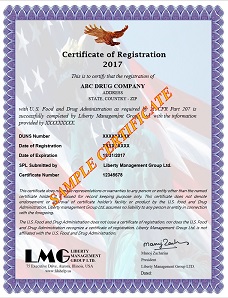 Quick links