FDA Registration - Non-Alcoholic Beverages.
Food facilities manufacturing and processing of Non-Alcoholic Beverages require FDA registration.
Examples of non-alcoholic beverages require FDA food registration.
Juices: fruit and vegetable juices, freshly squeezed or store-bought.
Soft drinks: carbonated beverages such as soda, cola, lemon-lime, and root beer.
Tea: black tea, green tea, herbal tea, iced tea, and specialty teas like chai and matcha.
Coffee: brewed coffee, iced coffee, and specialty coffee drinks like cappuccino, latte, and mocha.
Milk and dairy alternatives: cow's milk, almond milk, soy milk, and other plant-based milk alternatives.
Smoothies: blended mixtures of fruits, vegetables, and other ingredients like yogurt, protein powder, and nut butter.
Sports drinks: electrolyte-rich beverages designed to replenish fluids lost during exercise.
Energy drinks: caffeinated beverages designed to provide a quick burst of energy.
Mocktails: non-alcoholic versions of classic cocktails, often made with fruit juice, soda, or sparkling water.
These are not a complete list of non-alcoholic beverages that require FDA facility registration.
Certificate of FDA Registration - Non-Alcoholic Beverages
LMG assist foreign and domestic food facilities to register with FDA , we also provide US FDA Agent service to foreign food facilities. Please complete our online form to register your food facility with FDA.
Proof of FDA Registration
LMG issue free FDA registration certificate after successfully completing your food facility registration with FDA. You can use this as a proof of FDA registration to the industry, also you can verify certificate validity on our website.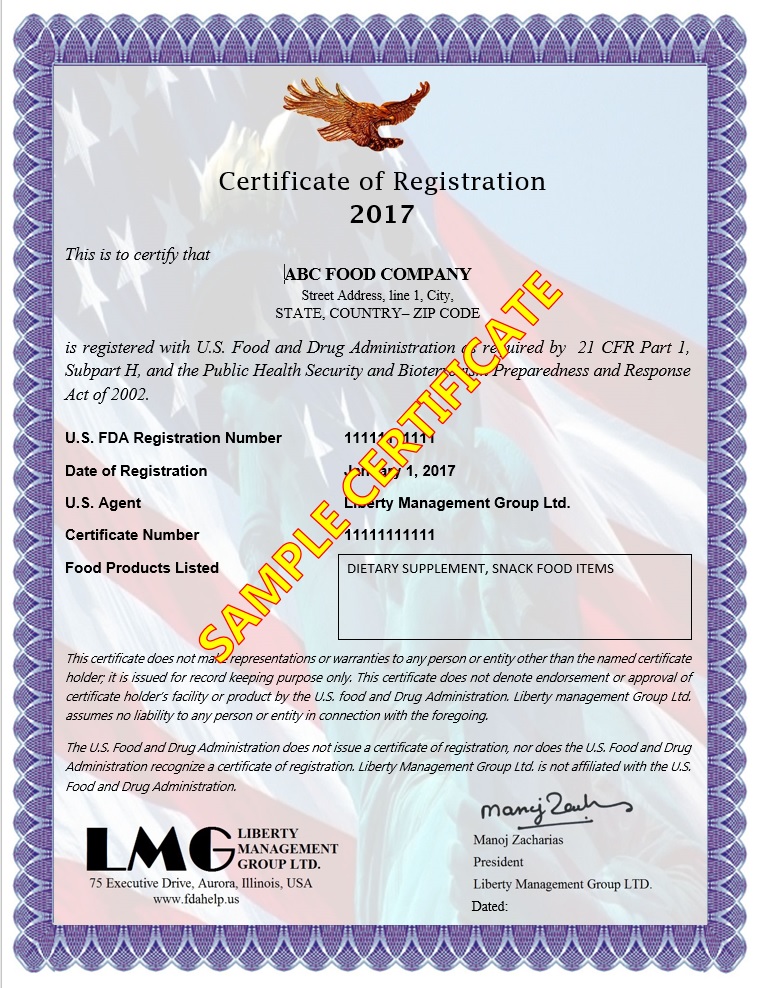 Back to previous page