FDA Registration - Acidified Foods
Acidified foods are low-acid foods to which acid(s) or acid food(s) are added and which has a finished equilibrium pH of 4.6 or below and a water activity (aw) greater than 0.85. All commercial processors of acidified foods located in the United States and processors of other countries who export acidified food products into the United States must register their processing plants with FDA. Jams, jellies and preserves are excluded from the general definition of acidified foods.
Sample list of Acidified Foods require FDA facility registration
These are not complete list of acidified foods which require FDA facility registration and process filing.
Certificate of FDA Registration - Acidified Foods
LMG assist foreign and domestic food facilities to register with FDA , we also provide US FDA Agent service to foreign food facilities. Please complete our online form to register your food facility with FDA.
Proof of FDA Registration
LMG issue free FDA registration certificate after successfully completing your food facility registration with FDA. You can use this as a proof of FDA registration to the industry, also you can verify certificate validity on our website.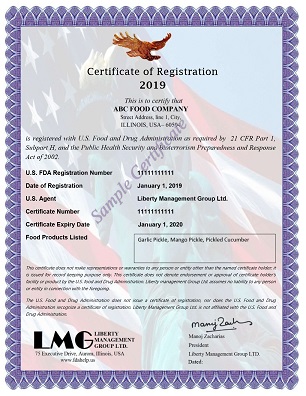 Back to previous page