FDA Registration - Hard and Soft Candy, Chewing gum
Food facilities manufacturing Chewing gum, hard candy, cough drops, Soft candy, candy bars, mints, and other chewy or nougat candies require FDA registration.
Examples of Candy Products require FDA food registration.
These are not complete list of candy chewing gum products which require FDA facility registration.
Certificate of FDA Registration - Candy, Chewing gum
LMG assist foreign and domestic food facilities to register with FDA , we also provide US FDA Agent service to foreign food facilities. Please complete our online form to register your food facility with FDA.
Proof of FDA Registration
LMG issue free FDA registration certificate after successfully completing your food facility registration with FDA. You can use this as a proof of FDA registration to the industry, also you can verify certificate validity on our website.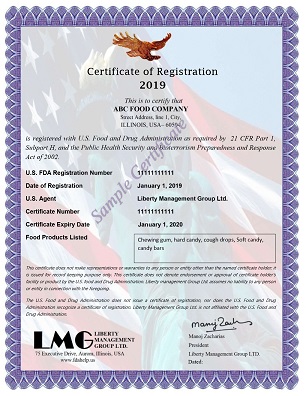 Back to previous page